How do I install the TQC on a WordPress website?
Adding the Title Quote Calculator (TQC) widget to a Wordpress website
Estimated installation time is 7 minutes.
1. The Title Quote Calculator is a little widget that floats on the bottom-right corner of your website that lets your clients access your App as well as lets them calculate title quotes on the fly. It looks like this:
2. When your website is made from Wordpress you can easily follow these steps to install the Title Quote Calculator in your website. Estimated installation time is 7 minutes.
3. To install it, first ask support@titlecapture.com for your code snippet for your company, if you weren't provided one already.
4. Once you have this code snippet, go to your wordpress admin dashboard by typing into your browser: exampleWebsite.com/wp-admin (add the /wp-admin at the end of your site domain) Fill out your admin username and password and log in.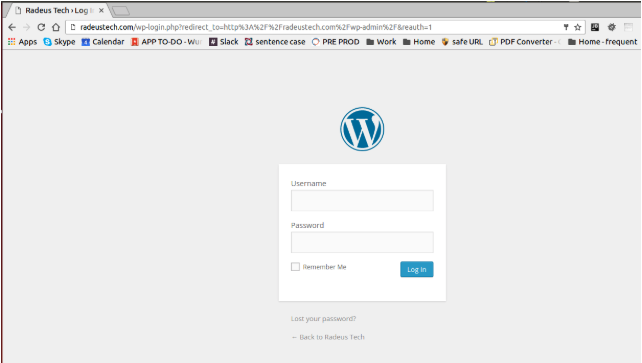 5. This page will show: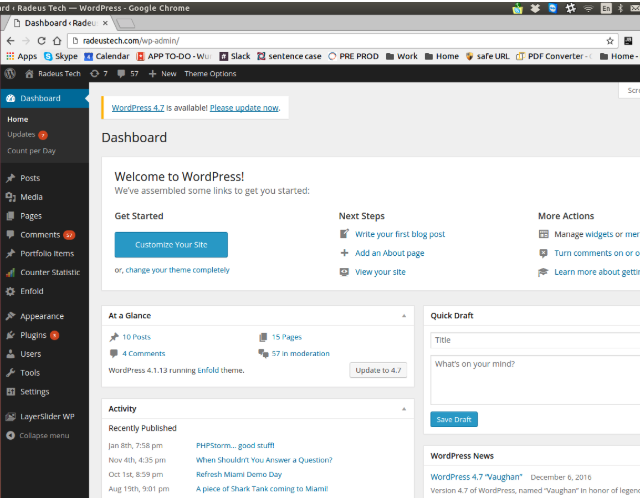 6. On the left menu, hover your mouse over Appearance.Then click on Widgets.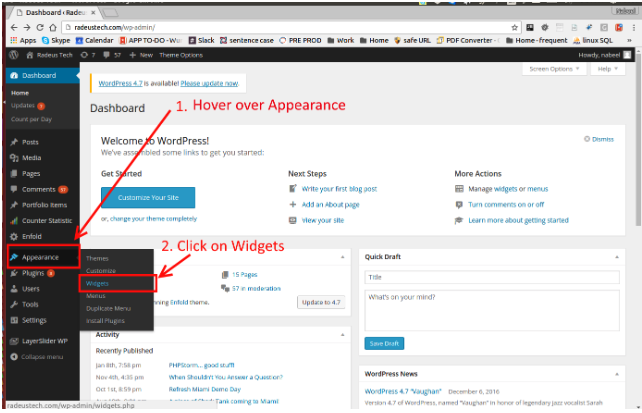 7. Press Ctrl + f on your keyboard (or CMD + f if using a Mac). Type in "html" into the search bar.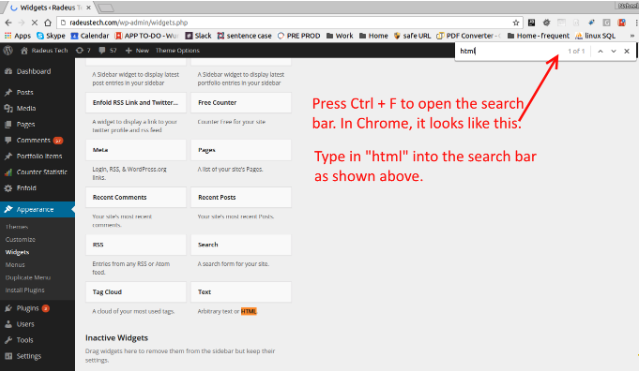 8. Press enter."html" should be highlighted in your browserClick on "Text" as shown in the white box. (see below picture).This should display:
9. Select "Displayed everywhere" or "Footer - column 1". Most Wordpress websites contain a footer. If you have multiple footers, as seen in the picture above, then please select the first one you see. If after completing all of these steps, the website doesn't display the Title Quote Calculator on all pages, then repeat this step and try footer 2, or footer 3 and so on until the widget displays on all pages.
Click "Add Widget"
10. Paste the code (that you copied earlier) into the big white text field. Don't worry about "Title". You can leave it blank.
11. Click "Save" Then open your websiteexampleWebsite.Com And test to see that your website has the newly added Title Quote Calculator. It should look like this on the bottom-right corner of your website on all of your pages:
12. And when you click on it, it should look like this: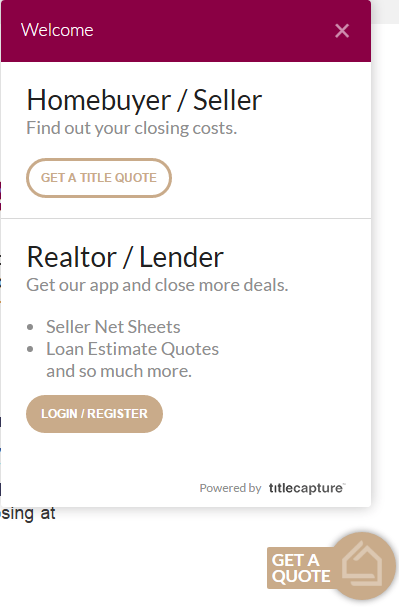 Test to see that the widget shows on all pages. If not, repeat the step above and add the code to another footer to see if that works. If you still have challenges, please let us know and we will be happy to help.Finally, try and create a quote with the widget. If it shows correct values, you are now done. Congratulations!
If you are using Wordpress.com (aka if not hosting it yourself) you may need to upgrade to the business plan to install our widget due to the limitations in adding Scripts. Please email support@titlecapture.com if you have questions regarding this.
---
---